For some reason I forgot to post this here :blue-confused:
Period : 24th - 29th August 2012
Dam : Letsibogo Dam (Botswana)
Dam Co-ordinates : -21.840686, 27.73702
Accommodation : Phokoje Bush Lodge
Accommodation Co-ordinates : -21.974071, 27.778112
Border Post Crossed : Martin's Drift
KM Travelled : 1208km
Persons on the trip : Nico Mathee, Nico's Father, Tristan Wood, & Brent Webber
Photo Gallery :
http://s1232.photobucket.com/albums/ff36...=slideshow
Our trip started at 3:15am on the morning of the 24th. Danny arrived in the Put Foot Rally Pajero so kindly supplied by Mitsubishi East Rand for the trip. Luckily we had packed the car the night before, so we packed our vanities and off we set.
With some things tied to the roof we had some interesting hums and buzzes while driving, including a polystyrene cooler box which I held quite dear to me. Before we stopped to grab some coffee and Monster Energy Drinks we realized the hums had changed and I was convinced my beloved cooler box had been donated to the ill lit road. When we got out at our stop my suspicions were confirmed when peering on the empty space where my awesome cooler box WAS once tied down. None the less we pressed on and I quickly forgot about my cooler box.
We pressed on through to Martin's drift border post and arrived there around 11am. WOW! Border post officials really are lacking in the emotion department. I think I have received a better emotional response from a light switch. Thankfully we made it through without any hassles.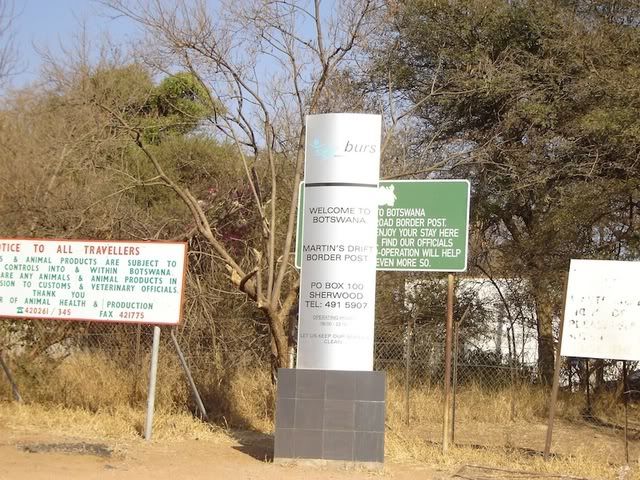 We stopped at the garage just on the Botswana side and made our last calls and sent our last messages before entering into Botswana and losing cellular signal. Once done with our goodbyes etc… We pressed on to Phokoje Bush Lodge in Selebi Phikwe where we would be spending our evenings. This is the "feature" presented outside the garage.
We arrived at Phokoje Bush Lodge at around 12:45 and were pleasantly surprised at the accommodation and available facilities.We quickly unpacked the necessaries and started getting our rods ready. We grabbed a quick lunch and beer at the restaurant at the lodge and decided to go check out Letsibogo Dam and maybe bank bash for a little bit and see what is happening.
What a site to behold when coming over the ridge at our launch area close to the old Yacht club. Trees in the water, islands protruding, rock piles everywhere and to top it off the bird life to drive any ornithologist bonkers. Fish Eagles, Pelican's, Stork's, Vultures etc…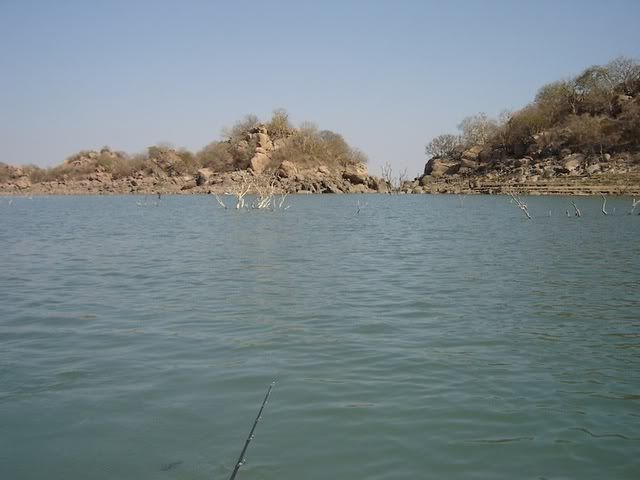 We threw a few lines and picked up a few fooshies to get the blood flowing and ready for the day ahead of us tomorrow. From the experience from the bank we were sure that we were going to be in for a treat. So we packed up and headed back to the lodge to join Nico and his Dad for a lekker dinner and some rest for the next day.
Day 1
We left the lodge around 5:30am and arrived at the dam as the sun was rising. Pretty much perfect timing and lighting to get the inflatables sorted out and hit the water. Rui Calsada lent me his Camo Duck for the trip and must say it is a very very hardy inflatable, very stable and easy to assemble. Thanks Rui.
I quickly got onto the water and was followed by Danny and Tristan. Nico and his Dad took a while to get onto the water after repairing a rip in the side of their Intex Mariner.
I rigged up a Wave Bamboo Stick Grasshopper on a 6/0 1/8oz Moaner Hook and quickly got stuck into a 3,2kg beauty. By now Nico and his Dad had eventually got on the water and were rearing to get going. Nico had rigged up a BWG White Shimmer Bishop Spinnerbait on Maji Kamba 50lb Army Green and chucked it right next to a tree. First day, First cast and BOOM!! Nico was on with a monster and after a daunting fight with the fish in the structure, told me to come and have a look at his fish. I quickly made my way over to Nico and his Dad to see what the fuss was about. Never in my life had I ever seen such a huge bass. Nico had broken his PB with a 6,06kg, totally shattering his previous PB of 4,2kg. What a boytjie!! It wasn't going to get any better than that, or was it?
My 3,2kg
Nico's 6,06kg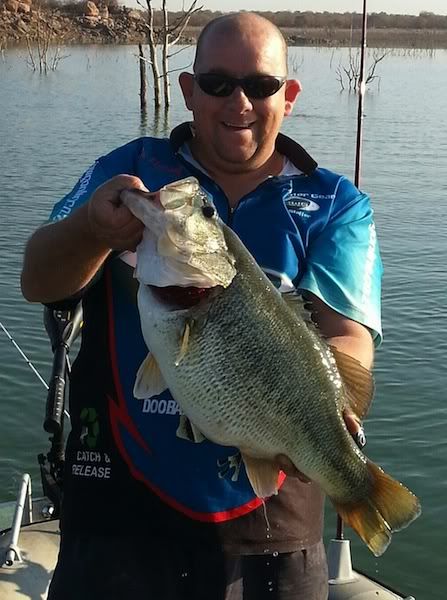 It was very difficult to catch up with everyone on the water as we had all spread out to do our own things. But Tristan Wood got stuck into a total of 6 x 4,5kg fish for the day. Giving him a total 5 fish limit of 22,5kg, which is just astounding.
Tristan with a few of his 4,5kg pigs
Day 2
The day Nico would shatter his PB from the previous day. Nico landed this football which weighed in at 7,03kg. It took a DD22 and put up a monster of a fight.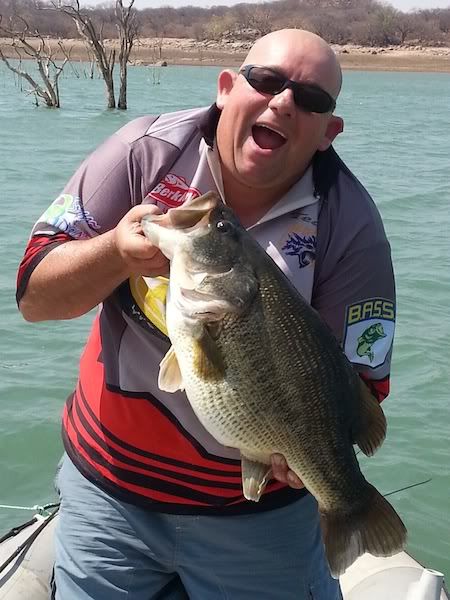 Oom Nico also broke his PB with a 5,85kg piggy. The shear size and strength of these fish is just astounding.
We got off the water around 4pm and proceeded to pack up. As we were almost done and ready to get going Danny brought the Pajero over from the other launch and misjudged the muddy section and the Pajero instantly sunk into the mud. 11:30pm and we finally managed to get the Pajero out of the mud and got back to the lodge. Thanks to Angus Dunlop and Amish Dunlop for their help in getting us out. Without you guys and your 4x4 Hilux we would still be trying to dig out the Pajero.
Day 3
We got a slow start to the day after the evening escapades with the Pajero. So we got some breakfast at the lodge and decided to visit Angus Dunlop's wife's charity initiative. This charity makes jewelry from recycled materials (posters, brochures, anything paper based). The proceeds go towards feeding orphans's and the poor. Community is essential, so this little time out was rather humbling. Tristan and I bought some items for our girls back home, bookmakers, bracelets and necklaces. Please visit <!-- m --><a class="postlink" href="http://www.mothersforall.org/">http://www.mothersforall.org/</a><!-- m --> for more information about this cause.
Around 12:00 Danny, Tristan and myself decided to get back onto the dam. Nico and his Dad decided to have a chilled day and grabbed some lunch at the local spur and went back to the lodge and chilled.
With a very quiet day on the water thanks to the wind, we got into very few fish as a cold front was making it's way in. I picked up a single fish of 1,43kg off a Wave Shadick Grasshopper. Tristan and Danny also picked up some fish, but nothing to write home about. At around 4:45pm we decided to call it a day. Thankfully the day ended less eventful than the previous.
Day 4
Our day started at 5am, and we made our way to the dam. A cold front had made it's way in during the night and chilled everything down, and to top it off a heavy wind had decided to rear it's head. My strategy for the day was to work the structure and work it hard and thoroughly. I picked up a few between 1,5kg and 2kg mark on the Wave Shadick (Grasshopper & Black Red Limante), but the big ones still remained illusive. I decided to call out my new big gun, the Xcite UberShad Green Pumpkin Magic on a 6/0 1/8oz Moaner Hook. I pitched the rig next to a tree and let it do it's thing. I felt a bit of weight on the line, but thought I was snagged up again on a tree, Tristan always reminds me that Strikes are for free, so I struck it, and boy did I get a head shake in response. I finally managed to haul this piggy out after a heavy fight, Nico helped me weigh her, and she came in at 4,46kg, new PB was on the board and up from my previous of 3,24kg. This is what we came here for, getting at least one big mamma made the trip all worth it.
The rest of the day was rather chilled as the realization was setting in that our trip was coming to an end. I proceeded to take in what was left by hanging my legs over the boat and chilling, taking everything in around me.
It was time well spent with friends and will most definitely make this an annual trip.
To anyone thinking of making a trip Letsibogo Dam I can highly recommend Phokoje Bush Lodge for accommodation. However, you are implored to practice conservation and act responsible during your stay and while fishing this dam. These waters are teaming with wildlife and it is our responsibility to ensure we maintain these waters for all to enjoy. Return fish safely and instantly to the waters.
Lures that produced Fish :
BWG Bishop White Shimmer (Nico's 6,06kg PB)
Wave Bamboo Stick (Grasshopper, Copper Candy, Chartreuse Pepper)
Xcite Raptor Tail Jnr (Molten Craw, Crawdad, Midnight Flash)
Xcite Maximus (Okeechobee Craw, Watermelon Candy)
Xcite UberShad (Watermelon Red, Green Pumpkin Magic, Xcite Magic) (Brent 4,46kg PB)
Norman DD22's (Nico's 7,03kg PB)
BWG Frisky Shad's
Wave Shadick's